Zenith University Helps You Cultivate a Safe and Healthy Workplace
When it comes to protecting employees and your business, Zenith is here to help cultivate a safe and healthy workplace.
Zenith University gives current policyholders and agents free access to several high-quality, live training webinars each month. Trainings are led by industry experts and address a wide variety of important workplace safety, risk control and workers' compensation topics applicable to many types of businesses and industries. View the 2022 Zenith University schedule.
Many webinars are presented in both English and Spanish, and if you can't attend a live webinar, we also offer recorded webinars you can review on your time. Zenith University webinars, as well as hundreds of other valuable tools and resources, are available at no cost through Zenith Solution Center®.
In addition to our regular monthly webinars exclusively available to policyholders, Zenith also offers select complimentary webinars open to all employers. Join our Safety & Health, workers' compensation insurance, and other industry experts as they share their knowledge, review industry best practices, and keep you updated on essential topics every employer should know. Find details below about upcoming offerings and register.
BEING PREPARED FOR A CAL/OSHA VISIT (ENGLISH/SPANISH)
The Occupational Safety and Health Administration (OSHA) can conduct workplace safety and health inspections without advance notice. Employers therefore need to understand what to expect if OSHA pays them a visit.
During this webinar, A Cal/OSHA Consultation Area Manager will describe how OSHA selects workplaces to inspect, what OSHA looks for during an inspection, and what employers can do to help make the inspection run smoothly.
This session covers:
• The OSHA inspections process and visit protocol
• Records and documents OSHA officers expect to see
• The OSHA appeals process and ways to contest a workplace safety and health violation
• Resources to help businesses prepare for an OSHA inspection
Who should attend this training?
Business owners, managers, supervisors, safety and health leaders, HR professionals
This complimentary Zenith Insurance Company webinar is offered in partnership with Cal/OSHA Consultation Services.
Register for Tuesday, November 8, 2022 (English)
Register for Wednesday, November 9, 2022 (Spanish)
NATIONAL FARM SAFETY AND HEALTH WEEK WEBINARS
Zenith Insurance Company celebrated National Farm Safety and Health Week September 18-24 with a series of informative webinars on important topics and issues that affect the agricultural industry.
View the session recordings:
Agriculture Employee Fall Prevention 

Conducting Effective Incident Investigations

Safe Transit of Farm Equipment on Public Roads

NATIONAL DAIRY MONTH WEBINARS

In celebration of National Dairy Month, Zenith Insurance Company and other dairy experts led a series of educational webinars to support the dairy industry.
This important training event was complimentary and open to everyone in the dairy community.
View the session recordings:
Safe Transit of Farm Equipment on Public Roads
Workers' Compensation Fraud Prevention for Dairies
Safe Animal Handling –  Using the Zenith Dairy Safety Series to Supercharge Your Safety Program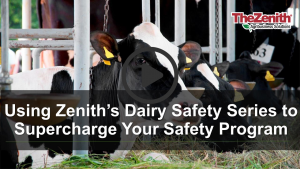 Dairy Security and Crime Prevention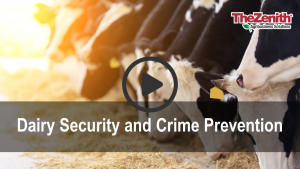 Resources for Dairy Security and Crime Prevention
AGRICULTURE MANAGEMENT TRAINING SERIES

On National Ag Day, people across the nation take time to recognize and celebrate the abundance provided by the agricultural industry. This year, on March 22, 2022, agriculture producers, associations, universities, government agencies, and countless others across America joined together to recognize contributions of the agricultural industry.
In celebration of National Ag Day, Zenith Safety & Health professionals, Cal/OSHA, and workers' compensation insurance experts had a one-day complimentary live educational event tailored to agriculture supervisors, foremen, and crew leads.
This important training event was complimentary and open to everyone in the agricultural community. 
View the session recordings:
Agriculture Management Safety Role and Responsibilities
Conducting Effective Incident Investigations
Heat Illness Prevention for Managers and Supervisors
Workers' Compensation 101 for Management
Cal/OSHA Update for Agriculture Operations